Hope from Home

a Virginia Repertory program on Covid-19
People ask me how I came up with this idea. I didn't. Jenn Alexander Scott gave me her information, and I wrote it down. This is a testament to her strength and character, performed by the talented Bianca Bryan. www.biancabryan.com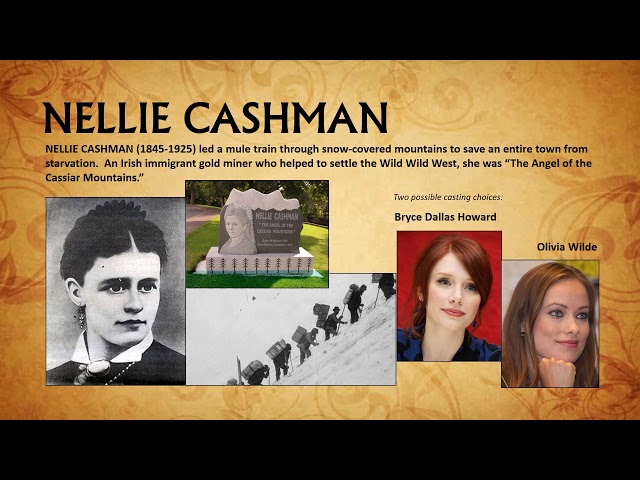 Lost Women of American History
After working as an actor and theatre director, I founded a small professional theatre in Sedona, Arizona, the Actors Repertory Theatre of Sedona.
One weekend while exploring the state, I waked right into the middle of NELLIE CASHMAN DAYS in Tombstone, Arizona. After doing some research I was astounded that I had never heard of this remarkable woman, an Irish immigrant and gold miner who helped to settle the Wild, Wild West.
I wrote my first bio-pic about Cashman, and the rest is history - literally. This slideshow is just a peek at the trailblazers who inhabit the world of the
LOST WOMEN OF AMERICAN HISTORY.

thank you!

2017 Vancouver International Women in Film Festival
I am so grateful to have won Best Screenplay for MY OLD MAN. Writing this story was a labor of love. It is a character-driven drama about a 40-year-old widow on the verge of suicide who picks up a 99-year-old man hitchhiking. As their relationship unfolds, he helps her to live and she helps him to die, and along the way, wounds are healed and fences are mended. l believe this is a universal story, and my fingers are crossed that this story will make it to production.
My father was one of twelve children from a poor family in Kentucky who went on to become a State Representative. As a result, I am a cross between Honey Boo-Boo and Kate Middleton. I straddled two entirely different worlds growing up. One week I would be visiting my cousins and using the outhouse; the next week I would be eating in a five star hotel and meeting the governor.

At the age of 15, I was chosen to be a Goodwill Ambassador, and spent that summer touring Europe. Every day was an adventure: from narrowly escaping the Russian man in Prague who wanted to share his drink with me (my first!), to the day I was kicked off the train in Berlin because my middle initial did not appear on the list of names. It was frightening. And exhilarating. And in some way every place I visited, and every person I met, would eventually became part of my world as a writer.
My fascination with people translated into a passion for acting. I moved to New York and attended the prestigious Playwrights Horizons Theatre School, then made my living as an actor and director for fifteen years. I began to teach, and while working as an adjunct professor in Arizona, I founded a small theatre in Sedona, Arizona, where I honed my story-telling skills.
When that ended, I embraced my secret love of writing and applied to the NYU/Tisch MFA dramatic writing program. I graduated in 2012, after receiving the Charles Pupura Award for excellence, then moved to Los Angeles, where I grew into an award-winning writer. Recently I was an official finalist for the Richmond International Film Festival in Virginia (RIFF) and when I attended, I fell in love with that city - the vibrant arts community, the people, the food, the history, the architecture, all of it. Two months later I relocated to Richmond, VA and was fortunate enough to be hired to teach Screenwriting at Old Dominion University in the Fall of 2019. I am looking forward to the new adventure - and the stories that will be born here.
/